ANKUSH FF BIOGRAPHY
Ankush Biography is a legendary Free Fire player from India. Basically, he is an emulator player.
He is one of the most popular Free Fire players whose Youtube content run by only his gameplay.
We can know Ajju Vai, Amit Vai, Gayn Sujon Etc. But they are running their channel using their voice cover or fun or giveaway.
But Ankush is a legendary player like Mina server players B2k, BNL, Stylus. I love his gameplay very much.
Anyway, Ankush's real name is Ankush Tripathi & his nationality is Indian. And this season he is now on Grandmaster Top 1. This season he is pushing with his friends on squad.
Ankush Free Fire ID
Ankush Free Fire ID is 241375963. His profile current like is 39k. 
Ankush KD SOLO -: 3.62
Ankush KD DUO -: 6.78
Ankush KD SQUAD -: 5.94
Right now is a rusher player. That's why his KD is a little poor now.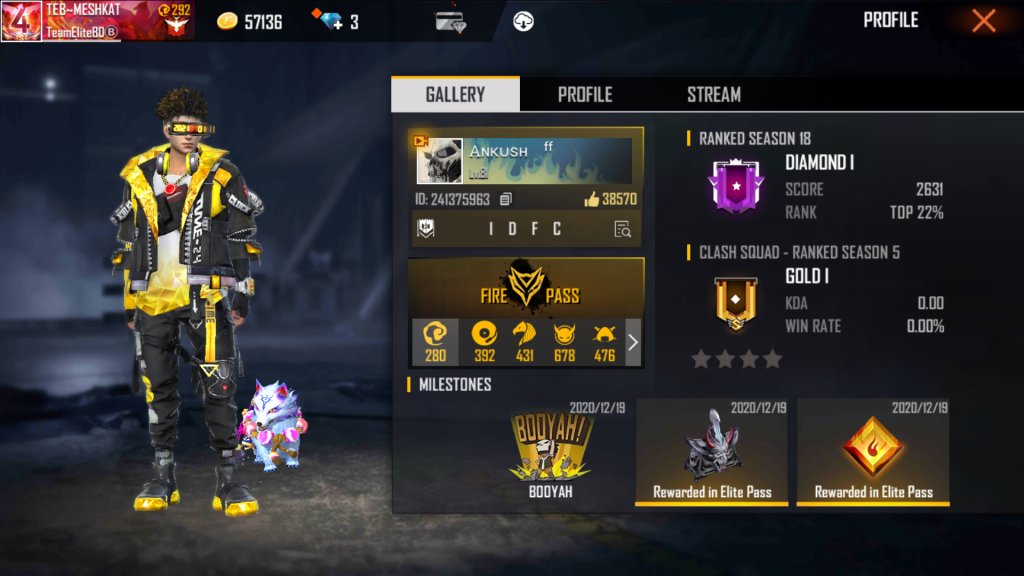 Ankush Social Media
He is very popular on social media. He is a YouTuber. He has now 3.60 million subscribers on Youtube. He has 132k followers on Instagram. And he has not enough followers on Twitter.
His Instagram account name is ANKUSH FREEF!RE ⚡. Sometimes he shares other's Youtuber videos on his Instagram account.
Ankush Face Cam
Actually, he is not facing cam on his videos. Even he is not cover his voice cover on his videos.
But if you want you can email him. His email id is [email protected].
Update: Just a few days ago he covered his voice. Watch the below video.
Ankush PC Configaration
Software – Bluestacks (Sensitivity – 0.3)

CPU – Intel Core i9-9900KF

GPU – GALAX GeForce® RTX 2080 Ti SG

RAM – CORSAIR Vengeance LPX (8GB X 2) 16GB DDR4 3200MHZ C16

M.2 SSD – Samsung 970 EVO Plus 500 GB NVMe M.2 PCle Internal Solid State Drive

SATA SSD – WD Green 1 TB 2.5 inch SATA III Internal Solid State Drive

HDD – Seagate Barracuda 2TB HDD (ST2000DM005)

MOTHERBOARD – GIGABYTE Z390 AORUS Master

PSU – Corsair Power Supplies, RMX 850W CP -9020093-NA

MONITOR – LG Ultragear (27GK750) 27 INCH, 240Hz Frame Rate
I hope you would like to read TEB Rimon Biography. And Read Ajju Vai Biography.
Thank you very much for reading Ankush FF Bio Data. If you know anything more about Ankush Free Fire then please comment below.